The band consists of four experienced musicians with a love of 60s music and a desire to reproduce the sound of that great era. Consequently, you can be assured of a first rate performance from this cracking musical line up.
Here's some comments from audiences:
"Brilliant night, fantastic music. Thank you!"
"Thank you so much for braving the weather, the music sounded amazing and we all had a fabulous evening"
"Fantastic brilliant evening great music"
"Enjoyed their set immensely"
"Brilliant brilliant band, looking forward to seeing them again next year"
"You are great and so different from every other band we book"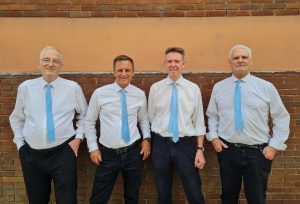 Kevin Hyde – Drums
Mike Moyse – Lead guitar
Tim Dugher – Bass guitar
Colin Brinn – Rhythm Guitar
We love the music of the sixties!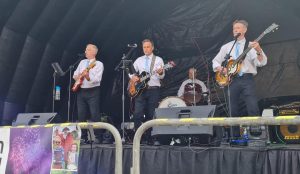 The musical output is exclusively sixties and the set list includes material by all your favourite bands such as, The Searchers, Rolling Stones, Drifters, Beatles and many more. The band is guaranteed to get you up and dancing, so make sure there's plenty of floor space to dance the night away.
Have a listen to us here as we play the Cascade's "Rhythm of the rain"
Booking is by phone or through this website which contains a contact portal, through which email is available to make contact with us. Please ensure you specify your type of function, location and contact details including a phone number.